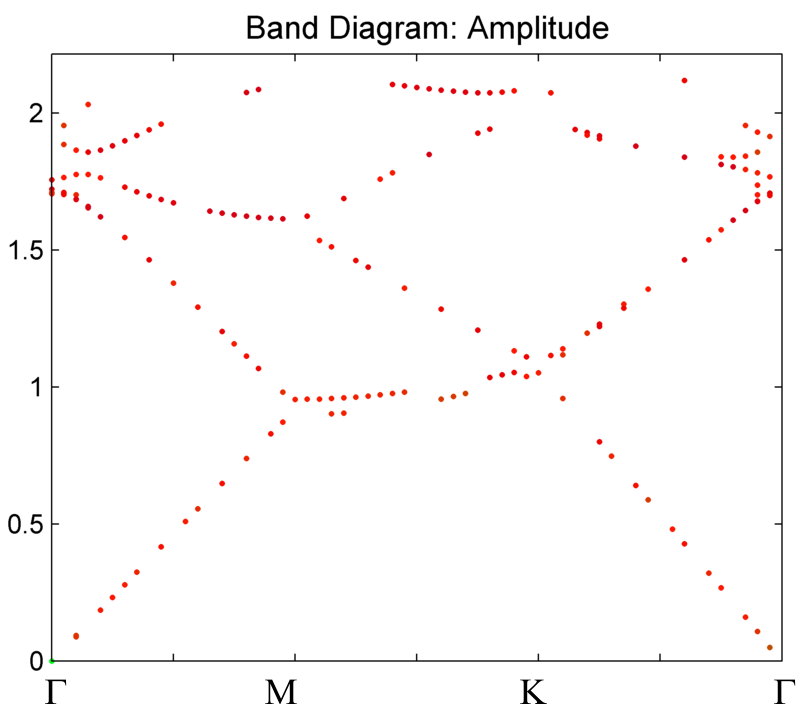 Photonic bands diagram was founded by finite difference time domain method (FDTD) method for 3D model of 2D photonic crystal structure. The FDTD method was chosen to investigated an impact of side-walls angle on the photonic bands formation.
Dedicated Matlab script was written to process FDTD data including a method for unfolding optical bands for triangular symmetry pattern.
Modelling includes:
optical resonance behaviour of a photonic crystal based structures FDTD simulation,
removal of folded optical bands from obtained data by an additional Matlab script.
Programming skills:
Scheme,
Matlab,
Bash scripting.
Papers related to this work:
E.D. Le Bouldbar, S. M. Lis, P.-M. Coulon, P. R. Edwards, I. Griffitns, C. J. Lewins, I. Girgel, R. W. Martin, D. W. E. Allsopp, D. Cherns, C. t. Bowen, P. A. Shields, "Optical and Structural Characterization of InGaN/GaN Core-Shell Grown on ICP Etched GaN/AlN/Si Nanorod Arrays", UK Nitride Consortium meeting, Sheffield, UK (2015) – poster presentation
C. J. Lewins, S. M. Lis, E. D. Le Boulbar, P. R. Edwards, R. W. Martin, P. A. Shields, D. W. E. Allsopp, "Photonic Crystal Effects in Regular Arrays of Core Shell and Quantum Disc InGaN/GaN Nanorods", UK Nitride Consortium meeting, Bristol, UK (2014) – poster presentation