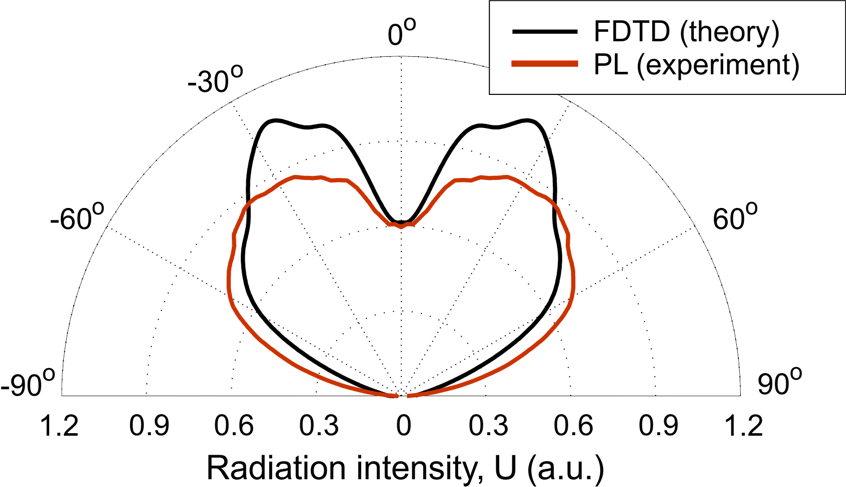 An array of nano-pillar LEDs was simulated by means of finite-difference time-domain (FDTD) method. The open access software (MEEP) was used as FDTD engine. Additional functionality like near field to the far-field transformation was written in Matlab. The example of the simulation result along side with the real device measurements is shown on the right side image.
Specification:
FDTD simulation of near-field above LED device,
near-field to the far field radiation pattern transformation by dedicated Matlab functions,
simulation of an incoherent radiation, which was achieved by adding multiple simulations for orthogonal dipoles,
investigation dipoles in various positions,
solving the LED model for a single wavelength and/or for full spectrum of LED emission.
Programming skills:
Scheme,
Matlab,
Bash scripting,
Parallel computation.
Related video: FDTD simulation of Nano-LEDs
Papers related to this work:
S. M. Lis, P.-M. Coulon, E. D. Le Boulbar, I. Girgel, C. J. Lewins, P. A. Shields, D. W. E. Allsopp, "Controlling of the Angular Emission of InGaN/GaN Core-Shell nano-LEDs array", 11th International Conference on Nitride Semiconductors, Beijing, China (2015) – oral presentation
S. M. Lis, S. E. J. O'Kane, S. A. Fox, C. J. Lewins, Y. D. Zhuang, J. Sarma, P. A. Shields, D. W. E. Allsopp, "Designing InGaN/GaN nano-LED arrays for entendue-limited applications", E-MRS 2014 Spring Meeting, Lille, France (2014) – oral presentation
S. M. Lis, S. E. J. O'Kane, C. J. Lewins, S. A. Fox, Y. D. Zhuang, J. Sarma, D. W. E. Allsopp, "Factors Affecting the Directionality of InGaN/GaN Nanorod LED Arrays", 10th International Conference on Nitride Semiconductors, Washington D.C., USA (2013) – oral presentation