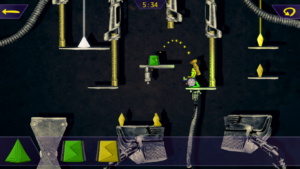 The next edition of Mr. Gansy adventures. This time Mr. Gansy, who is a nanoscale light emitting diode (LED), takes us for his adventures travelling through a semiconductor's crystal growth reactor by solving challenging entangled-photons puzzles!
This game will show you to the unseen world of semiconductor physics and quantum mechanics. Even though the goal of the game is relativity simple, namely you have to get to the white portal the game can be fairly challenging.
Before you start playing, watch the introduction video: Mr. Gansy: Quantum Jump Intro 
If you would like to learn more about Mr. Gansy and his adventures visit Website, there is a gallery of really nice short comics.
Game features:
60 hand-made levels in total
12 secret dark levels, which can be unlocked during game play
7 pieces of MFC, which you have to find if you want to save the nano-scale LEDs world
4 NPCs to meet with their unique story to listen
Watch the game trailer on YouTube:
Play the game for free on your android devices: